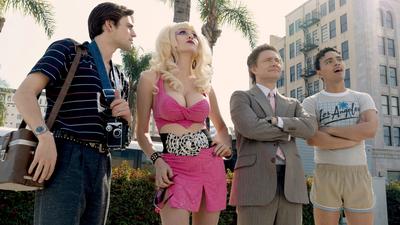 Principals
Angelyne, the title character. Played by Emmy Rossum.
Rick Krause, Angelyne's long-term confidante and assistant. Based on Scott Hennig. Played by Hamish Linklater.
Max Allen, a filmmaker who created a documentary on Angelyne. Based on Jesse Small. Played by Lukas Gage.
Jeff Glaser, journalist for The Hollywood Reporter, who wrote an exposé on Angelyne, revealing many details of her past that she would have preferred to remain secret. Based on Gary Baum. Played by Alex Karpovsky.
Danny, Angelyne's former husband. Based on Michael Strauss. Played by Michael Angarano.
The Band
Cory Hunt, guitarist and founder of Baby Blue. Based on Jordan Michaels. Played by Philip Ettinger.
Freddy Messina, Baby Blue keyboardist and Angelyne's photographer. Played by Charlie Rowe.
Ray, Baby Blue bassist. Played by Michael Shuman.
Bud Griffin, Baby Blue drummer. Played by Antjuan Tobias.
The Wallachs
Harold Wallach, the owner of a Hollywood billboard company. He was instrumental in Angelyne's early rise to fame. Based on Hugo Maisnik. Played by Martin Freeman.
Edie Wallach, Harold's wife. Based on Joy Maisnik. Played by Kerry Norton.
Wendy Wallach, Harold's daughter, an aspiring actress. Based on Katherine Saltzberg, née Maisnik. Played by Molly Ephraim.
Her Family
Eli Goldman, Angelyne's father. Based on Hendrik (aka Heniek or Henryk) Goldberg. Played by Ian Fisher.
Bronis Goldberg, Angelyne's mother. Based on Bronia (aka Bronis) Goldberg, née Zernicka. Played by Hani Furstenberg.
still to come: the character based on Annette Goldberg, Angelyne's sister.
Others
Hugh Hefner, founder of Playboy Magazine, who wants Angelyne to appear in its pages. Played by Toby Huss.
Max Allen's Lawyer, who represents him at an arbitration hearing. Played by David Krumholtz.